If you're looking for some cool camping gear, you've come to the right place. I put this page together to highlight some of the fun, interesting camping items I have come across this year.
1. Texsport Rotisserie & Spit Grill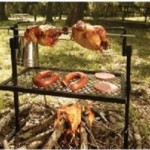 When you've reached your camping site, and you want to look cool and do some cooking, set up your Texsport Rotisserie & Spit Grill like this. Not only will you be the envy of any nearby campers, but you'll also be able to cook a rotisserie chicken, some vegetables and other things at the same time. Ease of setup is another great feature of this cool camping gear for the kitchen.
2. Whetstone Deluxe Camping Combo, Lantern and Fan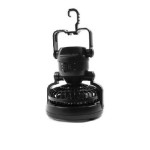 Imagine, a ceiling fan and light for your tent, in one. You can use the fan or the light, depending on whether you're warm or whether it's dark outside. It comes with a 2-speed fan and it easily attaches to your tent by a hook. You can read yourself to sleep, and reach up and turn off the light for a good night's sleep. The whole thing runs on 2 D-batteries. It's compact and lightweight for carrying to your camping site.
The Whetstone Deluxe Camping Lantern and Fan is definitely a cool camping gadget, with over 700 favorable reviews on Amazon! Check it out.
3. Ready America Deluxe Emergency Kit 4 Person Backpack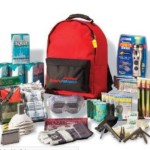 It's definitely "cool" to be a prepared camper. When you go camping, if an emergency comes up, you want to be ready and able to handle it. This 4-Person Deluxe Emergency Kit & Camping Kit will help you take with you, in a small bundle, all the things you might need in an camping emergency.
This is stuff that you probably won't use and hope that you don't. This kit contains enough provisions to support four people for up to three days, with food, water, first aid kit, radio, batteries and more. If you need this, you'll really be glad you had it.
4. Portable Camping Toilet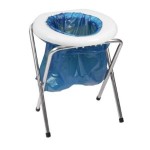 A definite part of cool camping gear is a portable toilet, for your camping convenience and comfort. Even if you're roughing it out in the great outdoors, you'll have to answer the call of nature. And why should you have to squat and splash? No, you don't need that. This handy portable camp toilet provides you with some of the comfort of home while you're out enjoying the wonders of nature.
It is lightweight and compact for carrying, but it can hold the weight of a grown man on its aluminum frame. It comes with several bags for your deposits, and you can easily order or purchase more. You'll feel better camping if you have some of the niceties of civilization to make your trip more enjoyable and hassle-free.
5. The Redneck Beer or Soda-Can Holster Belt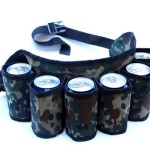 Want a new way to carry your six-pack of beer? With this cool camping device, you can use your hands to talk on the phone or carry a load, and you'll still be able to keep your cold six-pack at hand. Now, it won't stay cold forever attached around your waist, so you need to make time to stop, enjoy the view and drink a cold one.
Every guy needs to have a Redneck 6-Pack Beer & Soda Can Holster Belt, with Camouflage Waistband, to enjoy and look cool on his next camping trip. Don't drink beer? Take along your Dr Pepper, Country Time Lemonade or the beverage of your choice. And not only is it cool, it's cheap! Only about $8.00!
Cool Camping Gear

These are just five of the items of cool camping gear that we found in our research. Visit Amazon via any of these items and browse for more cool camping ideas.
Where to Buy These Items
You can find most of these items at your local camping goods store. If you don't need them right away, you might check on eBay to see what kind of cool camping gear is available at low prices.
Or, if you'd like to get things quickly and feel confident about your online purchases, you can buy them from Amazon.com with just a couple of clicks. And have them delivered to your door, nice and convenient, and in plenty of time for your next camping getaway.
Additional Resources
In case you want to go camping, and sleep in a tent, get a checklist, or find a hammock, here are some quick-links to helpful resources! Enjoy.
Top 10 Large Family Tents
Easiest Tent to Set Up
Cool Camping Gear for 2015
Must-Have Camping Checklist
Best Family Tents Reviews
Top 5 Family Camping Tips
Ten Cheap Family Vacation Ideas
Best Selling Hammocks