Family Tent Reviews: Top 6 Family Tents Described and Reviewed
These family tent reviews are provided to help you compare family tents, including their design, some of their features, prices and value. Hopefully this will help you choose the best camping gear for your family and situation.
Wenzel Blue Ridge Tent – 7 Person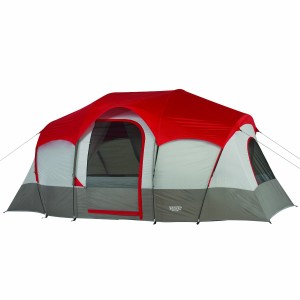 The Wenzel Blue Ridge 7 Person Tent is a large tent, providing space for some privacy for your family while camping. You can use the rooms for kids, dogs, backpacks, and whatever else you want. This tent is also easy to set up and pack away. There are three separate doors, for easily getting in or out, without having to climb over or disturb other people. This tent has a welded-tub floor which will keep your family dry and comfortable.
Jeep Family Dome Tent
This family tent can accommodate seven people, and has two rooms. The two bay windows make it feel spacious and give you the feeling of being part of the great outdoors. It also features a canopy you can use for shade on warm, sunny days, and for shelter if you want to sit outside on a rainy day.
Coleman WeatherMaster 10 Tent
This large family tent provides all the qualities you need to have a good time on your family camping outing. Coleman's experience in making high-quality camping equipment gives you an added level of confidence in this tent. As the name implies, this tent is made to handle all kinds of weather, and it can hold up to ten people. The two-room design makes it easier to sleep with a number of friends or family members. This tent also offers great ventilation, with mesh-covered windows.
Wenzel Grand Pass Dome Tent
This large family tent, with its dome design, can accommodate seven people comfortably. The Wenzel Grand Pass Dome Tent offers ample space, for your family, friends, and camping gear. It also has a tough, durable floor, as well as five windows, covered with mesh to keep the bugs out.
Columbia Bugaboo II Dome Tent
Another family tent you don't want to miss is the Columbia Bugaboo II Dome Tent, with its room for five people, cool and comfortable feel, and easy to set up and take down design. You'll love the cup holders and internal pockets in this spacious tent. Although it's called a Bugaboo, it not only keeps the bugs out but is also very carefully made to keep you dry and warm, even in the most brutal of downpours.
Coleman Instant Tent 8
You know that camping is a great way to spend quality time with your family and enjoy nature. Your tent is one your family's most important pieces of camping equipment. For those with a large family, a Coleman 8-Person Instant Tent may be just the ticket for you. This tent accommodates eight, and is easy to set up, with poles that are pre-attached to the tent. The cabin structure is stronger and sturdier than many tents, so it is great for longer stays on your camping adventures.
I have included all of the best family tents on this family camping tent reviews list, and I sincerely hope it will help you to gain clarity on which tent is right for your family. You can do more research online, read more reviews and tips on this site, and also look around on Amazon to see pictures, get more details and check prices. As always, have fun camping.
Additional Resources
In case you want to go camping, and sleep in a tent, get a checklist, or find a hammock, here are some quick-links to helpful resources! Enjoy.
Top 10 Large Family Tents
Easiest Tent to Set Up
Cool Camping Gear for 2015
Must-Have Camping Checklist
Best Family Tents Reviews
Top 5 Family Camping Tips
Ten Cheap Family Vacation Ideas
Best Selling Hammocks